CashOnTime™ -a Cash Flow Management Service
The Focused Management CashOnTime program is a highly developed, and very simple, process for confidently and effectively dealing with slow paying clients.
The system focuses on the principles of effective cash flow management and how to implement a systematic and proven approach to invoicing and collection of accounts – without losing clients.
You've probably always known it's possible to improve cash flows, but had difficulty implementing steps to ensure your customers pay regularly and 'ontime'.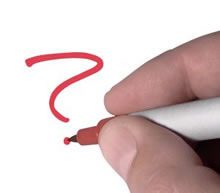 CashOnTime is about:
knowledge and skills to show that collecting overdue accounts does not have to be an onerous and unpleasant task
a non-confrontational system that has slowly evolved over many years that gently, yet extraordinarily efficiently, gets customers to pay their fees quicker than ever before, and
procedures and tools that can be used to implement the changes required to achieve improved collection results in your business.
The procedures have been put together in a logical sequence to step you through
managing your debtors
implementing changes in your business
getting quick and easy access to the tools (letters, checklists, forms and reference material)
We understand that you did not go into business to be a debt collector – you just want to be paid for the work you have done, quickly.
What Makes This System So Effective?

It separates myths from facts ...
Myth: Focus on the oldest and largest accounts first when collecting money.
Fact: The 'fast money' is in the current and 30 day accounts.
Myth: The best way to get paid is to phone customers with overdue accounts.
Fact: The best way to get paid is to start collecting early by letter and gradually build up to the collection phone call.
Myth: The person that did the work should generally be the person to follow up payment.
Fact: The very last person to follow up a debtor is the person who did the work.
The 3 fundamental principles of CashOnTime
Start early and tell everyone what you are doing
Always be the good guy
Be very hard to ignore
Why Does It Work?
It approaches the task from the viewpoint of accelerating account payments rather than collecting debts
It teaches people how to become systematic in their approach to account collections.
It works on a very nonconfrontational basis. It approaches account collections on the presumption of innocence rather than guilt.
If you would like to know more about how CashOnTime can help your business please send us your details. Click Here