Our Clients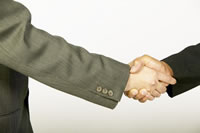 Focused Management is currently involved in assisting with the development and implementation of a number of client projects with particular emphasis on strategy development and implementation, internal processes, and management systems.
Specifically, some of these projects include:
G and S Fab - Focused Management was initially engaged to assist this steel fabrication business to move from a self employed style business to a growing enterprise with sustainable growth, cash flow and retained 'after owners salary' profits. We are currently assisting with the introduction of new product lines as well as the establishment of an overseas manufacturing division.

Moora Citrus - Focused Management has demonstrated its versatility in the development and implementation of business processes across a variety of industries and business types. Moora Citrus is an Agribusiness project where Focused Management has been involved in the initial Strategic Planning and Feasibility, Project Business Planning, Business Process Design and more recently Implementation Planning.

businessfitness - Providers of HowNow Knowledge Manager and HowNow Records Manager software. Focused Management has assisted businessfitness with the development of the business model, product offering and delivery process. Initially developed as an "online Procedures Manual" and tool for Accounting firms HowNow has been developed and customised for all businesses. Focused Management has a continuing role that includes Sales, Client Management and Business coaching for accountants.

Entrepreneurs in Residence (EIR) - Focused Management has undertaken a number of assignments for technology companies that have obtained seed and venture capital funding from EIR. Critical to the ongoing management of EIR investments is the need for the investee company to have a clearly defined Strategic Business Plan. Focused Management has facilitated the development of a number of strategic plans for EIR client businesses assisting them to both obtain and retain investment capital.
We have also successfully assisted over 100 companies improve their strategic business and overall bottom line performance through the implementation of corporate re-engineering and management programs.
Some of the clients that we have and are presently assisting include:
Commonwealth Business Banking
Paladin Resources NL
Fremantle Port Authority
GEL Group recruitment professionals
M.G. Kailis Group of companies
STSynergy Limited
eBooks.com Pty Ltd
Regalcroft Pty Ltd
Ausgem Limited
Power Air Dynamics Ltd
Mining E Trade Pty Ltd
Eurobenefits Pty Ltd (UK) - Eurobenefits Asia Pacific, Eurobenefits Australia
GlobeVista Pty Ltd
Paradigm Total Salary Management Pty Ltd
Hydro Farms Australia Pty Ltd
Ninan Farms
WA Grassroots Development
Agripork Pty Ltd
Portec Pty Ltd
Business Fitness Pty Ltd
FreeCargo Australia Pty Ltd
Solutions IT
Moora Citrus
Hawke Sims Chartered Accountants
Flavel Tierney Accountants
Strategic Prosperity Financial Planners
Focused Management has strong alliances with Chartered Accountants, Information Technology specialists, Investment Bankers and Corporate Financiers and can utilise the wider range of skills and experience of these professionals to complement any consulting assignment.
Each assignment is project managed by an Executive Director or one of our Senior Consultants. Our consulting teams and additional specialist resources provide project support.